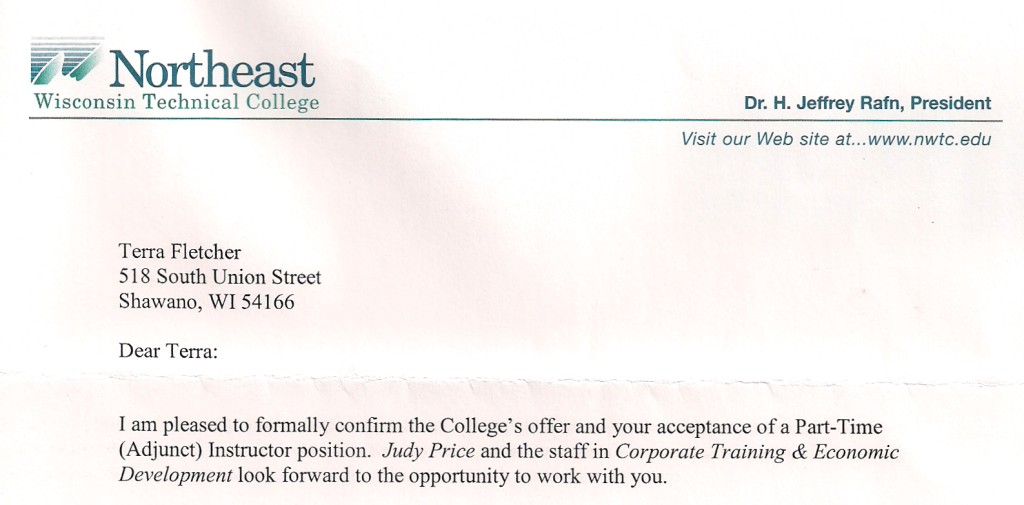 Terra L. Fletcher has been teaching corporate training classes at Northeast Wisconsin Technical College in Green Bay since March 2013. As of December 1, 2014 Fletcher is now an adjunct professor at NWTC. She offers marketing, customer service, communication, and social media workshops. Most of her classes are at the Green Bay Campus at the Corporate Training and Conference Center. Fletcher does on-site, custom training for businesses through NWTC and as an independent consultant at Fletcher Consulting.
About NWTC
Founded in 1912, Northeast Wisconsin Technical College is a nationally-ranked, two-year public college where students prepare for high-tech careers and begin their bachelor's degrees. NWTC is one of 16 colleges in the Wisconsin Technical College System. The College has three campuses in Green Bay, Marinette, and Sturgeon Bay; five regional learning centers in Crivitz, Luxemburg, Niagara, Oconto Falls, and Shawano; and several additional sites.
About Fletcher
Terra L. Fletcher, Fletcher Consulting, has nearly a decade of experience in business development and marketing consultancy. She has presented 100 workshops, panels, and classes on marketing, communication, and customer service. Fletcher's business, community, and personal growth strategies have benefited individuals, nonprofits, public and private businesses, chambers of commerce, and higher education. Fletcher is an adjunct professor at Northeast Wisconsin Technical College, has partnered with the University of Wisconsin Green Bay Small Business Development Center, and was awarded Entrepreneur of the Year by the Shawano Country Chamber of Commerce in 2012. Fletcher has been called upon to teach at the National Association of Tax Professionals, Georgia Pacific, and the American Counseling Association of Missouri.
*For Custom Training call  715-584-6773 today!